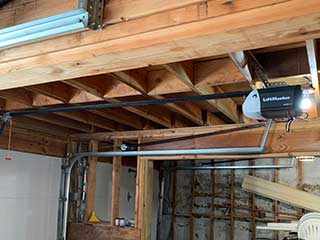 Your garage door owes its automated process to one specific device – the opener. This motor unit uses a drive system to move the panels up and down without you having to do anything more than press a button on the remote. This device can experience all sorts of issues, however, and it's important that you let professionals repair it when something malfunctions.
Different Mechanical Issues
Your opener uses all sorts of hardware parts in order to function, and all of them can malfunction due to unexpected issues or lack of maintenance. Chain drives can snap, and belt drives can tear; even the trolley carriage, which physically connects the motor unit to the door, can break off. The motor itself is not impervious to damage, and the main drive gear can wear out after a while, or break completely. Whatever the case may be, our team will be able to help.
Common Electrical Problems
The reason an opener can malfunction aren't just because of the hardware parts. The internal circuit board can fry after sudden power outages, or the electrical wiring can detach or become frayed and fail to work. The remote control can also malfunction, and will require either replacing or reprogramming. Often times, the issue will merit removing the old component and installing a new one, which can be complex and also potentially risky (due to electrocution) so it's better if you let our team repair these sort of problems.
Important Safety Tests
In order to make sure your opener's safety features are working correctly they'll need to be tested. This is a key aspect of the garage door maintenance service that our company provides. We'll check the alignment of the photo eye sensors and the functionality of the auto-reverse mechanism, and adjust their settings accordingly to ensure that the door will avoid hitting anyone or anything that gets in its way.
Having Some Trouble?
Don't hesitate to reach out to our team at Garage Door Repair Humble for any type of issue related to your automatic opener. We've got the skills and the experience to safely handle any problem this important device may encounter. Feel free to call us for more information.
Need more? We also provide:

New Garage Door Installation

Oil Tempered Torsion Springs

Opener Sensor Replacement

Garage Door Tune Up Services