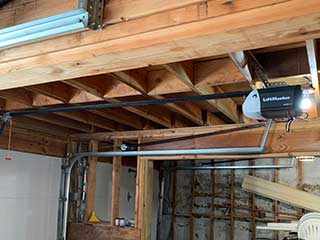 Your garage door owes its automated process to one specific device – the opener. This motor unit uses a drive system to move the panels up and down without you having to do anything more than press a button on the remote. The automatic garage door opener can experience all sorts of issues, however. It's important that you let nearby professionals repair your overhead door opener when something malfunctions. Who should you call? The answer is simple - Garage Door Repair Humble, of course!
Different Mechanical Opener Issues
Your opener uses all sorts of hardware parts in order to function, and all of them can malfunction due to unexpected issues or lack of maintenance. Chain drives can snap, and belt drives can tear; even the trolley carriage, which physically connects the motor unit to the door, can break off. The motor itself is not impervious to damage, and the main drive gear can wear out after a while, or break completely. Whatever the case may be, Garage Door Repair Humble will fix your opener problem. Every homeowner close to Humble can rely on our garage door opener services.
Common Electrical Problems
The reasons a garage door opener can stop working correctly aren't just because of the hardware parts. The internal circuit board of your electric opener can fry after sudden power outages. The electrical wiring can detach or become frayed and fail to work. The remote control can also malfunction and will require either replacing or reprogramming the automatic garage door opener. Often times, the issue will merit removing the old opener and installing a new one, which can be complex and also potentially risky (due to electrocution). When opener repairs are in order, or when you're looking to upgrade to a newer model, the nearest pros are at Garage Door Repair Humble. Ready and happy to help any day of the week.
Important Opener Safety Tests
In order to make sure your garage door opener safety features are working correctly they'll need to be tested. This is a key aspect of the maintenance service that Garage Door Repair Humble provides. Checking the alignment of the garage door sensors and the functionality of the auto-reverse mechanism are important safety tasks that must be done on a regular basis. Adjust the settings of the garage door opener travel limit and the sensors according to the findings helps to ensure that your automatic overhead door will function safely and won't hit anyone.
Garage Door Not Opening or Closing
If you start to experience problems opening or closing your automatic garage door, the opener may carry the source of the problem. Leave the opener repair and maintenance to professionals, to avoid causing unintended harm to the system. The circuit board, the motor or drive system; even the travel limit switch could be at fault. LiftMaster garage door opener troubleshooting, as well as find-and-fix-it services for models by brands like Genie, Chamberlain, and Sears, are available all week long, including Saturdays and Sundays. Garage Door Repair Humble is a stone's throw away, ready to help with all your opener needs.
Having Some Trouble With Your Garage Door?
Don't hesitate to reach out to Garage Door Repair Humble for any type of issue related to your automatic opener. Getting help from close by professionals helps to ensure the problem is resolved quickly. The closest garage door opener service providers also happen to be the best ones in the vicinity. Any opener-related service you need is covered with Garage Door Repair Humble. Call us any day for same day service.
More Information You Can Use
How long do garage door openers last?
Most garage door openers last somewhere around ten years, but this varies considerably based on brand and model, as well as use. An opener with just barely enough horsepower (hp) to raise your garage door is going to wear itself out much faster than one with extra power to spare. This is why it is preferable to get an opener that's stronger than a garage door as heavy as yours strictly needs. Of course, regular maintenance can help the garage door opener last longer. Lubricating moving metal parts like gears, chains, and screw-tips is going to reduce friction and consequentially wear and tear rate.
Why is my garage door remote not working?
If the remote handset's batteries are fresh and properly installed and there are no button jams, then the problem is either with the handset's internal wiring, or with the opener itself. In the latter case, the opener could have a damaged antenna or a faulty circuit board that needs replacement, or simply a programming glitch that can be fixed with a hard reset. Hopefully, this isn't a more complex problem that requires garage door opener repairs. If it is, know that you've got us to call for same day service.
What are some useful garage door opener troubleshooting tips?
Many garage door openers, particularly those produced by LiftMaster and Chamberlain, have a self-diagnostic system that makes problems easy to identify (you can find the key to understand it in the user's manual or online). You can also test your control systems (remotes, wall consoles, etc) individually to see if one of them is the problem, and check your sensors to see if the lights are blinking, indicating misalignment. But remember – if you still can't find the problem, call a professional. Garage door opener problems can get worse when mishandled.
Need more? We also provide:

New Garage Door Installation

Oil Tempered Torsion Springs

Opener Sensor Replacement

Garage Door Tune Up Services