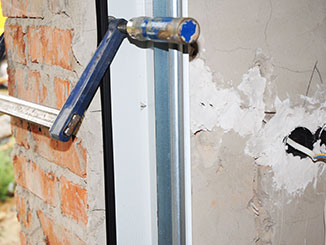 Garage door problems are never fun to deal with, especially not when the system stops working as a result and you're left stuck inside or outside your home. While regular maintenance can help you avoid a great deal of trouble, some accidents and malfunctions can still occur unexpectedly, at which point you'll need experts to quickly come over and resolve the issue. That's exactly what our team is here for.
Bent Track Repair
If your door suddenly got stuck halfway open and you can see one or more rollers popped out of the tracks, then you'll need to have the damage repaired quickly. While your door is stuck, other parts, like the springs, opener and cables, are put under extra stress, which means their condition is deteriorating more than what regular wear and tear demands. Our technicians will quickly straighten the bent sections and carefully reinsert the rollers back into their proper place. We'll then make sure that your door can open and close smoothly again, and that no other part sustained noticeable damage.
Broken Spring Replacement
If one of your springs did end up breaking for whatever reason, you can count on our experts to quickly carry out the replacement job. Handling this type of component requires skill and experience, as there is a significant amount of tension involved, and you could get seriously hurt if you don't know what you're doing. Whether you have extension or torsion springs, our team will be able to safely remove the damaged unit and then fit a new, more durable one in its place.
Opener Won't Start
A problem involving your door's motor unit could be the result of many different issues. Whether it's the trolley carriage that's causing the problem or the motor gear that broke or wore out, we'll be able to help. If your opener won't start at all, there may be an electrical issue, and perhaps even something wrong with the circuit board. Whatever the case may be, our team will either repair the damaged part or replace it with a new one.
Effective and Reliable Solutions
If you need to have a strange noise checked or to have a malfunctioning part replaced quickly, our team at Garage Door Repair Humble is here to assist you. Contact us today or use our online system to schedule a service appointment.
In addition, count on us for:

Opener Clicker Repair

Torsion Spring Adjustment

Track Replacement & Repair

Roll up Garage Door Maintenance