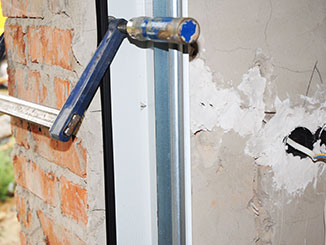 Garage door problems are never fun to deal with, especially not when the system stops working as a result and you're left stuck inside or outside your home. While regular maintenance can help you avoid a great deal of trouble, some accidents and malfunctions can still occur unexpectedly, at which point you'll need experts to quickly come over and resolve the issue. That's exactly what Garage Door Repair Humble is here for. Being near your area means you'll always get a fast response from us.
Bent Track Repair
If your door suddenly got stuck halfway open and you can see one or more rollers popped out of the tracks, then you'll need to have the damage repaired quickly. While your door is stuck, other parts, like the springs, opener, and cables, are put under extra stress, which means their condition is deteriorating more than what regular wear and tear demands. Our technicians will quickly straighten the bent sections and carefully reinsert the rollers back into their proper place. We'll then make sure that your door can open and close smoothly again, and that no other part sustained noticeable damage.
Broken Spring Replacement
If one of your springs did end up breaking for whatever reason, you can count on Garage Door Repair Humble to quickly carry out the replacement job. Handling this type of component requires skill and experience, as there is a significant amount of tension involved, and you could get seriously hurt if you don't know what you're doing. Whether you have extension or torsion springs, the service pros from Garage Door Repair Humble will be able to help. It's always a good idea to get local technicians who are nearby to help, rather than wait for distant traveling assistance and watch the problem exacerbate.
Opener Won't Start
A problem involving your door's motor unit could be the result of many different issues. Whether it's the trolley carriage that's causing the problem or the motor gear that broke or wore out, we'll be able to help. If your opener won't start at all, there may be an electrical issue, and perhaps even something wrong with the circuit board. Whatever the case may be, Garage Door Repair Humble will either repair the damaged part or replace it with a new one. The closest overhead door service team also happens to be the best around, so contacting us for help is always the right decision.
Garage Door Not Opening or Closing
So you're basically dealing with an overhead garage door that doesn't go all the way up or down, eh? Well, there are several potential causes for this type of problem. Blocked tracks or worn rollers can prevent the door from opening or closing fully. The garage door opener travel limit settings can also affect the movement range and may require adjustment. Worn springs and an unbalanced garage door can have trouble lifting or lowering all the way. There's even the chance that your garage door sensors are misaligned (you can tell if their lights are blinking or one is red and one green). Misaligned sensors can make the opener "think" there's an obstacle, and keep it from closing the door. Whatever the cause of the problem, know that Garage Door Repair Humble will quickly suss it out and fix it.
LiftMaster Garage Door Opener Troubleshooting & More
Some opener brands, like Chamberlain, LiftMaster, and Genie, for example, can add self-diagnosing tools to their models. That means that the strange lights or error signals that your garage door opener is displaying have a specific meaning. You can consult your owner's manual to learn more, but if you're not sure of what to do exactly to fix the problem, or if it's something complex like mechanical or electrical repairs, your best course of action is to let the nearest experts from Garage Door Repair Humble deal with it.
Effective Garage Door Solutions Near You
If you need to have a strange noise checked or to have a malfunctioning part replaced quickly, Garage Door Repair Humble is here to assist you and all other homeowners within a stone's throw away. Contact us today or use the online system to schedule a service appointment.
Additional Information You Can Use
Garage door is not closing. Why?
If your garage door will open but not close, then the most likely culprit is a misalignment in the photo eye sensors. Check the sensor lights to see if they are blinking or otherwise indicating that the beam isn't connecting. If the problem isn't the sensors, it is likely an issue with your opener, or one or more of your control systems. Check your remote control, wall console, and (if you have them) wifi controls to see if one of them will work. If the problem doesn't go away, give us a call.
Why is my garage door reversing?
A garage door suddenly engaging in a full power reverse can be the fault of a few different issues. It's usually either a stuck button in your remote control, corruption in the opener's logic board, or a safety sensor misalignment. Take the batteries out of your remote to see if that stops the problem. Check the lights on the sensors while the door is open (if you can get it open) to make sure the beam is connecting. If it's neither of those, your opener likely needs repairs. Give us a call to get same day service.
What garage door is best?
There's no such thing as "the best" garage door. Your preferences, the size of your garage, and your general living situation, should all inform your priorities when picking a garage door. If security is a particular concern, you'll want to prioritize strength and durability. If you'd like to avoid expenses, a lightweight door that won't tax your springs and opener is preferable. Those are just two of the many factors that should be taken into account when choosing the right door for you.
In addition, count on us for:

Opener Clicker Repair

Torsion Spring Adjustment

Track Replacement & Repair

Roll up Garage Door Maintenance