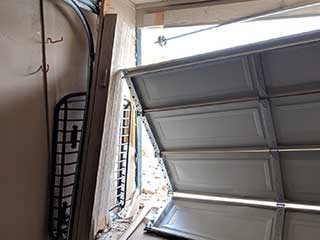 An automatic overhead garage door makes life much more convenient for anyone who owns a car. It's almost hard to live without one! If you don't ensure that your garage door is properly serviced and maintained though, you might find it quickly becoming a liability. Acquaint yourself with the needs of these deceptively complicated systems and provide the maintenance they require, and you'll get much better use out of them!
Same Day Service
Most garage door problems require immediate assistance. Broken spring repair, for example, demands it. Can you open a garage door with a broken spring? Maybe, but it's not worth chancing it. The springs on overhead doors carry a lot of tension in their coils. When they break, they need replacing asap. This is to provide the door system with something to support and help it open. This type of job is something you should leave to the pros. The nearest garage door service team is right here in Humble. Get in touch with us for urgent repairs any day of the week.
Garage Door Opener Repair
The opener might be the most important part of an automatic overhead door. This is the device that receives the command to open or close, and which uses an electric motor to get the garage door moving. The circuit boards, motor, and wiring or drive systems of an opener can all be worn out or damaged and will require professional care to get working again. If your garage door is not opening or closing, or if there are noises coming from the opener box, there's a good chance your opener needs attention.
Broken Spring Repairs
The springs provide most of the lifting power to raise your garage door off the ground and are controlled and helped along by the opener. This activity puts the springs under enormous stress, and even if you care for them and keep them oiled they won't last forever. A broken spring is a serious problem! Even if your garage door can still open with a broken spring, doing so will damage the other components and require even further repairs. Finally, broken springs can be dangerous, as they're known to fly loose at high speed. Get in touch with a garage door company near you and let a professional handle it as soon as possible!
Garage Door Installation
If you don't have an automatic overhead door for your garage, or if you have one but it needs replacing, you should get one! Contact a nearby garage door service and see about fresh installation or garage door replacement. Components like openers, safety sensors, panels, and more come in a great variety from all sorts of manufacturers. A good company will help you pick and choose the best parts to build a sturdy, reliable overhead door system.
The Garage Door Repair Humble Team Is Waiting
Garage Door Repair Humble offers garage door service of all kinds throughout the nearby municipal limits. This includes repairs, replacement, installation, and more. Explore our site to learn more about the best provider of garage door services near you, or call us today!