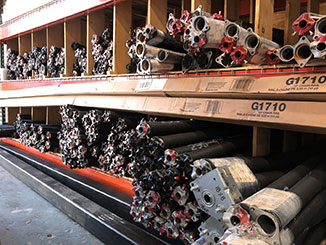 The springs in your garage door do all the heavy lifting. When the door opens, it's the springs which take the weight, and as they close, they become stretched to ensure it doesn't slam shut. This constant stretching and relaxing means the components can eventually wear out, though it can take several years for this to happen. It can be dangerous to use springs that are growing weak. When you notice significant wear and tear, they should be replaced as soon as possible.
What Happens When Springs Wear Out?
As these springs grow weaker and weaker, they stop being able to support the weight of the door. This often results in a door that wobbles or shakes when it moves. As the springs grow weaker and weaker this effect will become more pronounced, until eventually it fails altogether. This is dangerous because the opener can't support the door, and it will suddenly slam shut - anything beneath it will be caught.
When To Replace Your Springs
The danger of a spring wearing out is very real - we strongly recommend that you contact us at the first sign your springs appear to be growing weak. Springs will wear out at different speeds, but a good test is to check the balance of the door. Open it halfway and disconnect the opener; the door should stay reasonably still. If not, the springs need to be adjusted or replaced.
Replacing Your Door Springs
Do not try and replace your door springs yourself. This can be extremely hazardous, since the components are under a great deal of tension. Instead, contact our team; we'll secure the door and release the spring tension, then safely disconnect and replace the springs. Once this is done, we'll test and calibrate the spring tension to ensure everything is properly balanced.
Get In Touch For An Appointment
If your springs are showing any signs of weakening, don't hesitate. Get in contact with Garage Door Repair Humble today to schedule an appointment, and let our expert technicians adjust or replace your springs.
We also take care of:

Part Replacement & Repair

Extension Spring Adjustment

Garage Door Off Track Repair

Screw Drive Opener Replacement