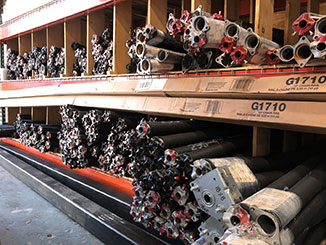 Your garage door springs do all the heavy lifting. When the door opens, it's the springs that support the weight, and it's also them that provide the tension-based force to help it rise or lower safely. This constant tension and relaxation means the garage door springs can eventually wear out, though it can take several years for this to happen. It can be dangerous to use springs that are growing weak. When you notice significant wear and tear, your garage door springs should be replaced as soon as possible.
Different Types Of Garage Door Springs
Different garage doors use different kinds of springs. That should come as no surprise, as there are plenty of types of automatic overhead and up and over door styles available today. But the springs vary in more than just their diameter and length. They also vary in operation method. Torsion springs work by utilizing torque, which means they twist and unwind to generate tension. They can be found right above the garage door, on a horizontal steel shaft. Extension springs come in a pair and are installed on different sides of the garage door, parallel to the horizontal tracks. Extension springs work by stretching and contracting, which means they have a shorter lifespan and can be more dangerous when they snap or break.
What Happens When Garage Door Springs Wear Out?
As these springs grow weaker and weaker, they stop being able to support the weight of the door. This often results in a door that wobbles or shakes when it moves. As the springs grow weaker and weaker this effect will become more pronounced until eventually, it fails altogether. This is dangerous because the opener can't support the door, and it will suddenly slam shut - anything beneath it will be caught.
When To Replace Your Garage Door Springs
The danger of an overhead door spring wearing out is very real - Garage Door Repair Humble strongly recommends that you contact us at the first sign of trouble. If your garage door springs appear to be growing weak, for example, or if the door is unbalanced. Springs will wear out at different speeds, but a good test is to check the balance of the door. Open it halfway and disconnect the opener; the door should stay reasonably still. If not, the garage door springs need to be adjusted or replaced. Leave this work to the pros from the nearest garage door service company.
Garage Door Spring Repair
Avoid trying to replace your overhead door springs yourself. This can be extremely hazardous since they are under a great deal of tension. Instead, contact Garage Door Repair Humble. Broken spring repair is a job that requires skill and experience, which you'll find our technicians have in droves. After removing the broken spring and installing a new one in its place, your garage door will return to work like nothing went wrong.
Broken Spring Repair Services Near You
If your garage door springs are showing any signs of weakening, don't hesitate to call us. Treating the problem before it grows worse is a smart idea and a very useful way to prevent collateral damage. Garage Door Repair Humble offers same day spring repair services, Sunday through Saturday. You will always get a fast response from the spring repair pros closest to your area.
We also take care of:

Part Replacement & Repair

Extension Spring Adjustment

Garage Door Off Track Repair

Screw Drive Opener Replacement