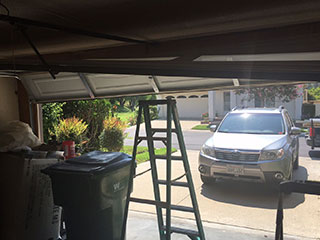 It can be extremely frustrating when you're late for work and your garage door refuses to open. 9 times out of 10, it's a problem with the remote and not the system itself. Here are some things to try if your remote seems like it's not working and your garage door just isn't playing ball.
Check The Battery
The first thing to do is to check the battery. It may sound simple, but if your wall switch opens the outer door and your remote doesn't, that's usually the problem. Additionally, check the battery terminals inside the remote itself. They can become dirty - if this happens, the dirt will interfere with the remote's operation.
Make sure the antenna on the main unit (the large box containing the motor, usually hanging from the ceiling) is pointed down towards the floor. The signal might not be getting to the unit if the antenna is misaligned.
Consider Getting A Universal Remote
These remotes last longer, have greater range and are generally more reliable than the standard remote controls that come with many units.
Check The Operation of The Sensors
In more modern units, safety sensors are part of the system - you have two of them mounted near the door, and they 'see' each other using a low-frequency LED. Thanks to the sensors, when there's something in the way of the door, it should stop closing and reverse.
If you test your sensors and find it's not reversing, the solution can be as simple as cleaning the sensors, removing excess dirt & moisture, or removing a previously unseen obstacle such as a branch from their line of sight. If this doesn't work, you may need to get your sensors looked at by a professional.
It could be that your opener needs to be replaced. This is the mechanism that receives the signal from your remote. A new receiver will replace the old radio frequency that your system used with its own, and as a bonus, if you have a less modern system, the new receiver will replace your old static frequency will a rolling one, making it much harder for your code to be stolen.